Welcome to Laliluna.de
Welcome to my web site. It provides you with my service offers and a large number of articles on web technologies, Java and JRuby, GWT, Tapestry, JBoss Seam and Hibernate. Originally the website started in 2004 as tutorial platform describing EJB 2 development with XDoclet.
Enjoy reading!
Sebastian Hennebrueder – Independent Software Developer, Architect and Trainer
Training and Seminars for Java Persistence and Hibernate
I am a very experienced trainer for Hibernate and Java Persistence with more than 20 trainings in Europe over the last couple of years and a long list of pleased customers.
Trainings are available for Hibernate and Java Persistence using Eclipse Link or JBoss Hibernate. There are two training levels, one for beginners and one which covers topics like Performance, Clustering and concepts.
Publications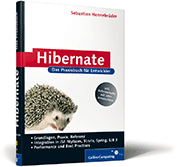 Apart from many articles on my website, you can find the following ebooks.
Java Persistence and Hibernate Developer Guide
I publish a continuously updated eBook in English and wrote a paper book in German, which is published by Galileo.
It is an extensive, easy-to-follow introduction to Hibernate 3 including a lot of complete working
examples. Integration of Hibernate with other technologies like Spring, EJB3, Struts and JavaServer Faces (MyFaces) is explained.
Read more about the Java Persistence & Hibernate Developer Guide by example


The Web Framework Evaluation – Comparison – Test
A series of articles on choosing web technologies. In addition there are detailed reviews of individual frameworks. So far, I have covered Stripes, Tapestry and JavaServer Faces 2.
http://www.laliluna.de/articles/the-web-framework-evaluation.html